Municipal red tape and delays adding $100K to cost of a new home in Toronto area: study
The study found that delays in municipal approval timeframes added up to $50,000 to the cost of a condo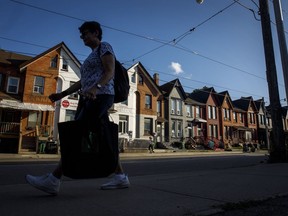 Article content
Red tape is adding to the cost of new homeownership, especially in the Greater Toronto area, rated among the worst municipalities across Canada for delays, a new study says.
Article content
The study — by Building Industry and Land Development Association (BILD) by Altus Group — looked at the approaches municipalities have in place to deal with the approval and development of new housing. It was based on research done on 16 municipalities across the GTA.
Article content
It found that delays in municipal approval timeframes for new housing have increased significantly since 2020 — adding up to $50,000 to the cost of a condominium apartment and $100,000 to the cost of a new home. 
Young families are being pushed out of metropolitan areas like Toronto, York and Peel, because of the lack of affordable homes and are being forced to move to surrounding areas. Current MLS statistics for Toronto indicate that the average price tag on a house was $1,071,829 in September 2022, according to real estate website Zolo.
Article content
The Financial Post reported that the income required to buy a home was $210,750 in March. The income increased to $226,500 in July, but decreased to $213,950 in August in Toronto. While home prices are going down, "borrowing costs go up — if you can even get on that ladder," according to the Financial Post article.
"For many potential buyers, home purchasing prospects remain grim. The partial reversal of earlier massive price increases is small comfort at a time when sharply higher interest rates cut deeply into affordability," said RBC economist Robert Hogue in a report.
The City of Toronto and Celadon took the longest for average approval time, at 32 and 34 months respectively. Milton and Whitby were the fastest, at 10 and 13 months respectively.
Article content
Municipal inefficiencies and delays are not only slowing the addition of housing supply, "but they are also adding directly and indirectly up to $3.30 per square foot to the cost of a new home," said president and CEO of BILD Dave Wilkes. "To put that in context, each month of delay in approvals adds $2,600 per month to the cost of a new 800-square-foot apartment and over double that for a new single-family home."
Fees and charges to new homes also increased significantly, by 30 to 36 per cent since 2020, according to the study.
The study found that nine of the 16 municipalities in the study now have combined municipal charges (development charges, parkland charges, community benefits charges, planning fees) for a ground-oriented development (mix of singles and townhouses) that exceed $100,000 per unit. Seven exceed $125,000 per unit.
Article content
"This is adding tens of thousands of incremental dollars to the cost of a new home," it explained.
One of the main issues impacting housing affordability in Ontario is the system in which the municipalities operate. The study suggests that a thorough review could help assess "the choke points and processes constraining municipal staff."
The study noted that three municipalities — Whitby, Brampton and Bradford West Gwillimbury — observed did see improvement in their approval timelines.
A major difference between Ontario's approach compared to the rest of Canada is the province's lack of development permit systems — even though they are allowed by the Planning Act.  As well, the province lacks a "delegated authority," which was "evident when comparing Ontario to other jurisdictions outside of the province," the study said.
Although governments at the federal and provincial levels have taken steps to address housing supply and affordability, Wilkes said municipalities need to do the same.
"Now is the time for action," he said.